Navuto+ Travel System
RM839.00 – RM939.00
Best Travel System For Baby
or up to 3 interest-free payments of RM279.67 with
Description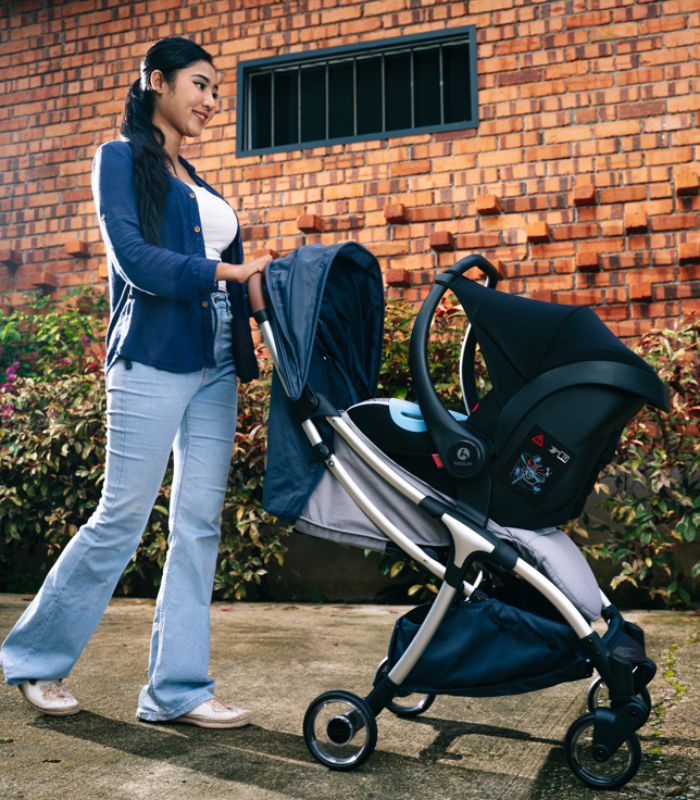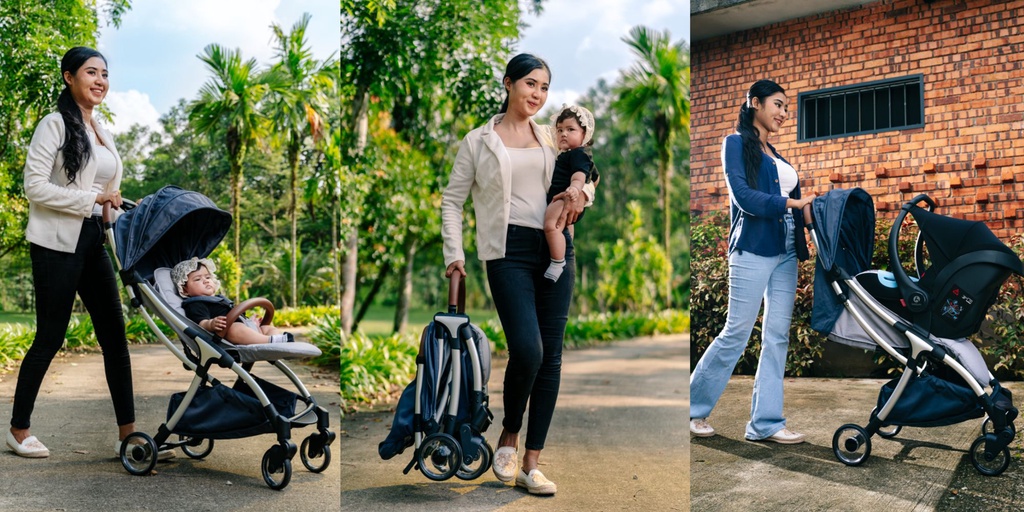 ✨ For purchase of + danzo carrier bundle, it will come together with the car seat adapter✨
𝗕𝗲𝗯𝗹𝘂𝗺 𝗡𝗮𝘃𝘂𝘁𝗼+
Equipped with auto-fold system, one hand seat adjustments, sleek structure design and stylish vegan leather handle bars, the Navuto+ stroller is designed for parents, fit for babies. Paired with extra plush cushion, Beblum Navuto+ is sure to bring a comfortable ride for your little ones and convenience for you at the same time.
–𝗙𝗲𝗮𝘁𝘂𝗿𝗲𝘀–
-Auto-fold, auto-stand
-One hand mechanism (folding and unfolding, seat recline, leg rest adjustment)
-3 position recline, up to 170 degree
-Oekotex certified, eco-friendly fabric, Extra-padded & Vegan leather handle bars
-4-wheel suspension
-Ball bearing wheels (+30% easy handling)
–𝗦𝗽𝗲𝗰𝗶𝗳𝗶𝗰𝗮𝘁𝗶𝗼𝗻𝘀–
-Weight: 6.7kg
-Folded Size: 46(W) x 36(D) x 56(H)
-Seat Dimension: 32(W) x 35(D) x 40(H)
-EN1888 Approved
–𝗥𝗲𝗰𝗼𝗺𝗺𝗲𝗻𝗱𝗲𝗱 𝗨𝘀𝗲–
-Suitable for newborn – 22kg
–𝗪𝗮𝗿𝗿𝗮𝗻𝘁𝘆 𝗣𝗲𝗿𝗶𝗼𝗱–
-1 Year on mechanism
𝗕𝗲𝗯𝗹𝘂𝗺 𝗗𝗮𝗻𝘇𝗼 𝗖𝗮𝗿𝗿𝗶𝗲𝗿
The ultra-lightweight Beblum DANZO is a safe and comfortable baby seat for your baby when you're on the go. This seat can be used rear-facing with the vehicle's three-point car belt from the first day of baby birth till 13kg.
Without disturbing your baby, you can simply transfer the baby seat from your car onto the strollers or buggies. Compatible with many strollers and buggies from brands like Beblum, Easywalker, Quinny, Pockit and Tavo. (Car seat adapter sold separately)
–𝗙𝗲𝗮𝘁𝘂𝗿𝗲𝘀–
-Soft padded belt pads, head and side wing cushion keep small baby snugger in a natural lying position. You can also remove the cushion to provide more space as your baby grows.
-Sun canopy is easy to use and offer the best protection for your baby tender and delicate skin.
-Seat cover is easily removed for handwash
-An ergonomically shaped CarryRight handle for a more comfortable and enjoyable carrying position.
-Handle adjustable 3 positions, allow you to use the car seat as a rocker, feeding chair and carrier.
-Quick and easy one pull harness system
–𝗦𝗽𝗲𝗰𝗶𝗳𝗶𝗰𝗮𝘁𝗶𝗼𝗻𝘀–
-Weight: 4kg
-Dimensions – Width: 45cm, Length: 64cm
-ECE R44/04 Approved
-MIROS Certified
–𝗥𝗲𝗰𝗼𝗺𝗺𝗲𝗻𝗱𝗲𝗱 𝗨𝘀𝗲–
-Suitable for newborn – 13kg
–𝗪𝗮𝗿𝗿𝗮𝗻𝘁𝘆 𝗣𝗲𝗿𝗶𝗼𝗱–
-1 Year on mechanism
–𝗔𝗰𝗰𝗲𝘀𝗼𝗿𝗶𝗲𝘀– (Additional purchase)
•Raincover
•Navuto+ Adaptor
Additional information
| | |
| --- | --- |
| Colours | Black Navuto+ & Black Danzo, Blue Navuto+ & Black Danzo |