Sam Crib 8-in-1 Baby Cot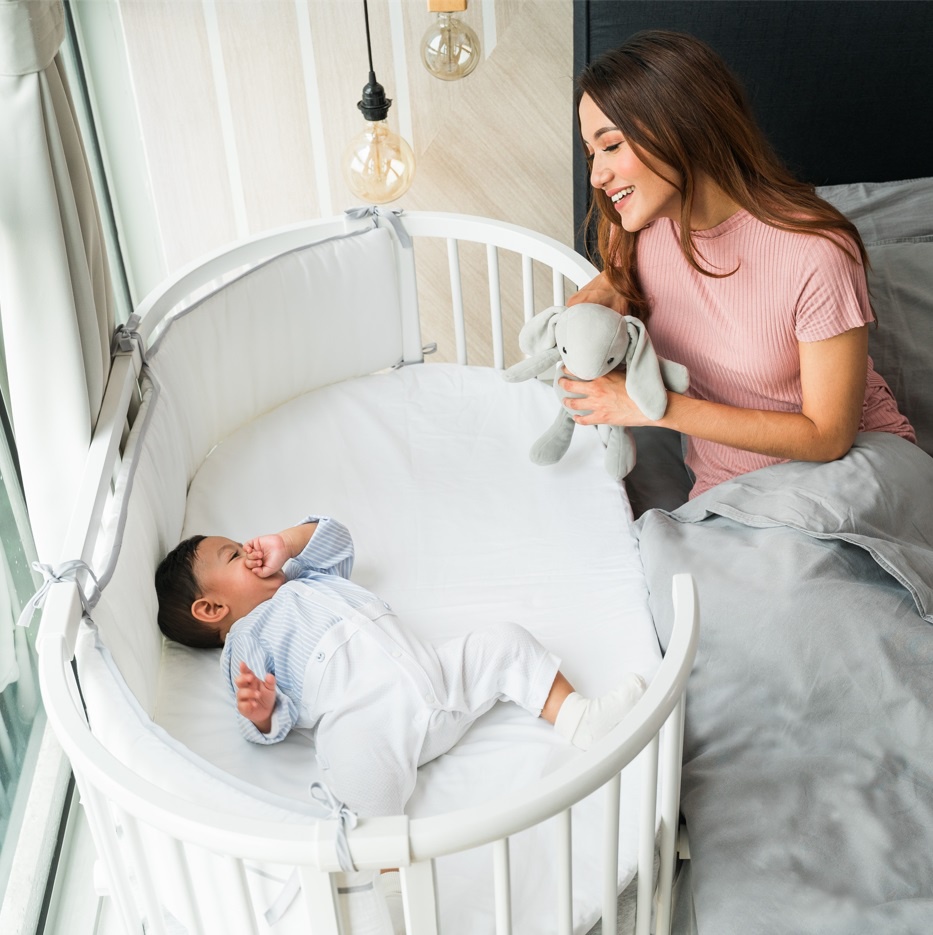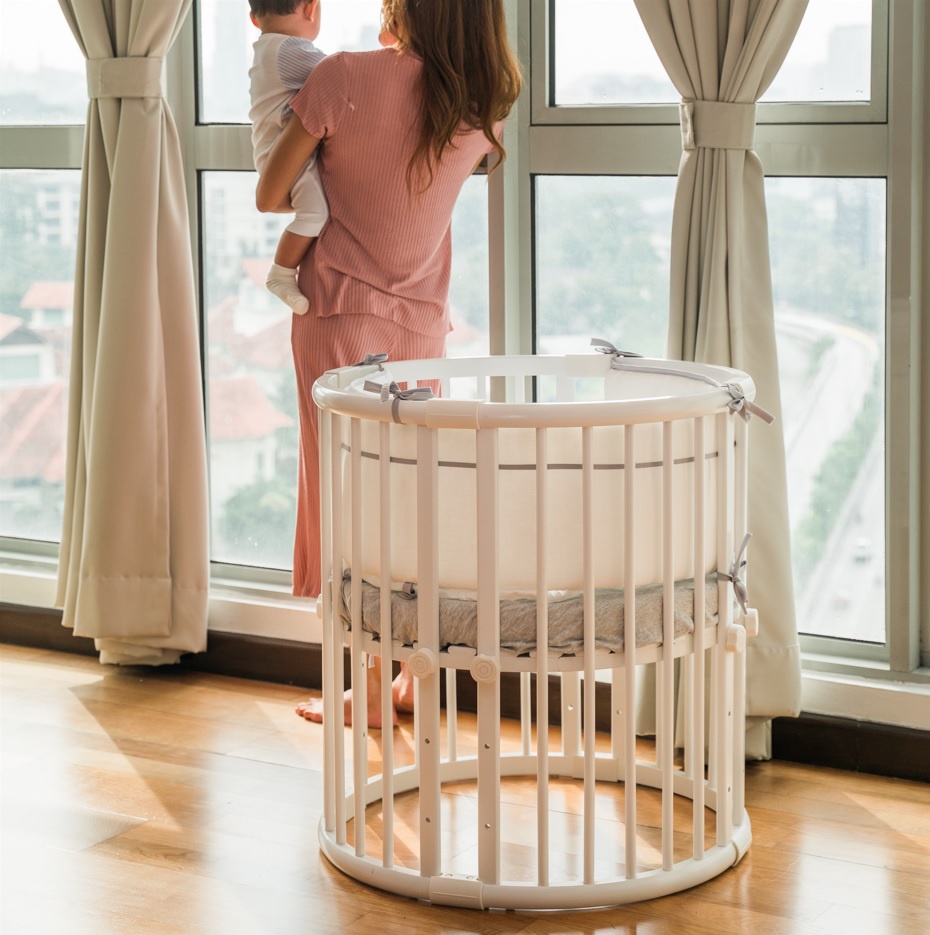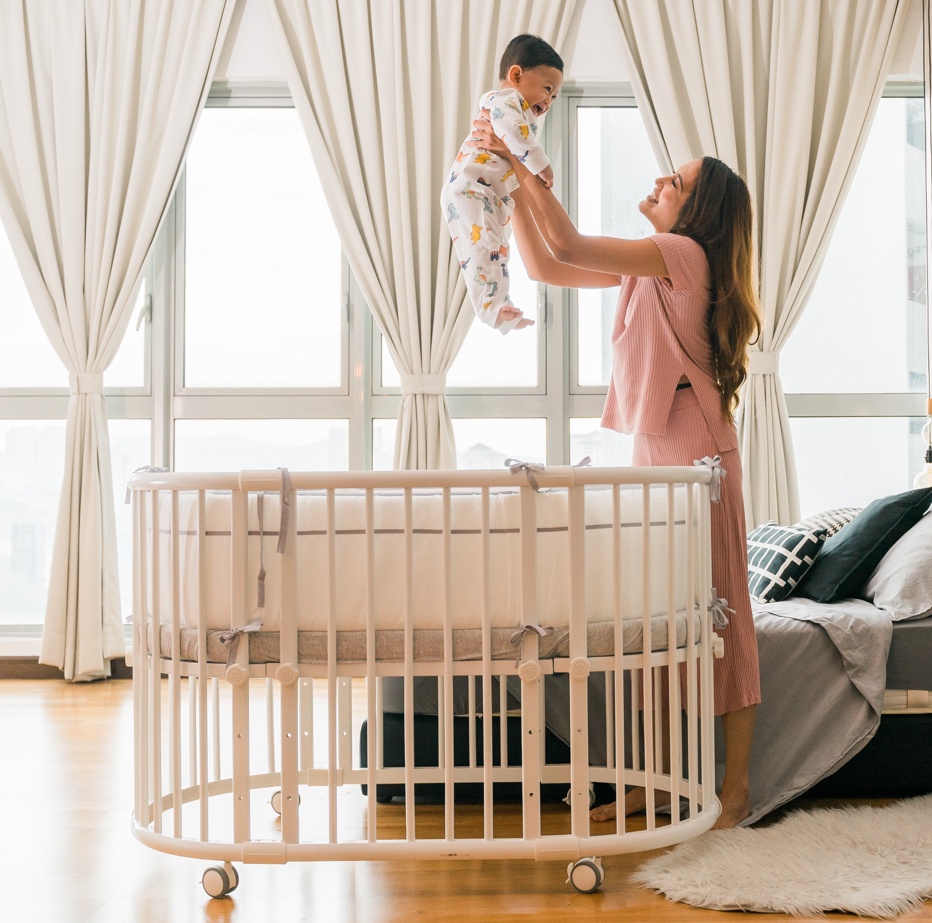 Beblum Sam Crib is a convertible cot that is changeable into different mode according to child's age. Beblum Sam Crib can be converted into 8 different styles from birth right up to 6 years old. This premium and stylish baby cot is made of top-quality wood. It meets the European National safety standards EN 716 to ensure that your baby sleeps safely and comfortably. The best part is the simplest baby cot installation which only requires 15 MINUTES and without the use of drill tools.
𝗙𝗲𝗮𝘁𝘂𝗿𝗲𝘀
• Easy Click-System for assembly and no tools required
• Only 15 minutes installation even for mommies
• Made out of durable wood such as German Beechwood, Birchwood and NZ Pinewood
• Healthy, water-based, and non-hazardous paint is used
• Convertible into 8 different designs for different usage
• 3 adjustable cot heights according to the baby's age
• 6 sturdy and durable wheel safety locks and brakes
• Equipped with OEKO- TEX bedspread, bumper and coconut fibre mattress
*Wheels to be removed when used as other functions besides baby crib, co-sleeper and bassinet.
𝗧𝗵𝗶𝘀 𝟴-𝗶𝗻-𝟭 𝗖𝗼𝗻𝘃𝗲𝗿𝘁𝗶𝗯𝗹𝗲 𝗕𝗮𝗯𝘆 𝗖𝗼𝘁 𝗰𝗮𝗻 𝗯𝗲 𝗮:
1. 0-6 months: Bassinet
2. 0-6 months: Diaper Changing Table
3. 0-36 months: Oval Crib
4. 12-24 months: Playpen
5. 12-48 months: Co-sleeper
6. 12-48 months: Toddler Bed
7. 2-6 years old: Sofa
8. 2-6 years old: Children Furniture
𝗦𝗮𝗺 𝗖𝗿𝗶𝗯 𝗦𝗲𝘁 𝗜𝗻𝗰𝗹𝘂𝗱𝗲𝘀:
• 1 x Sam Crib Frame
• 1 x Coconut fibre mattress
• 1 x 100% Cotton 7pc Bedding Set
(1x pillow, 1 x fitted sheet, 1 x blanket, 2 x bumpers, 1 x round crib topper, 1 x oval cot topper)
𝗦𝗽𝗲𝗰𝗶𝗳𝗶𝗰𝗮𝘁𝗶𝗼𝗻𝘀
• Designed with International EN716 standard
• Cot Dimension: 126cm(W) x 71cm(D) x 83cm(H)
• Mattress Dimension: 120cm(W) x 65cm(D) x8.5cm(H)
• Weight: 25kg
𝗥𝗲𝗰𝗼𝗺𝗺𝗲𝗻𝗱𝗲𝗱 𝗨𝘀𝗲
• Suitable for new born up to 50kg (12 years old)
𝗪𝗮𝗿𝗿𝗮𝗻𝘁𝘆 𝗣𝗲𝗿𝗶𝗼𝗱
• 12 months warranty on mechanism
Navuto+ Autofold Stroller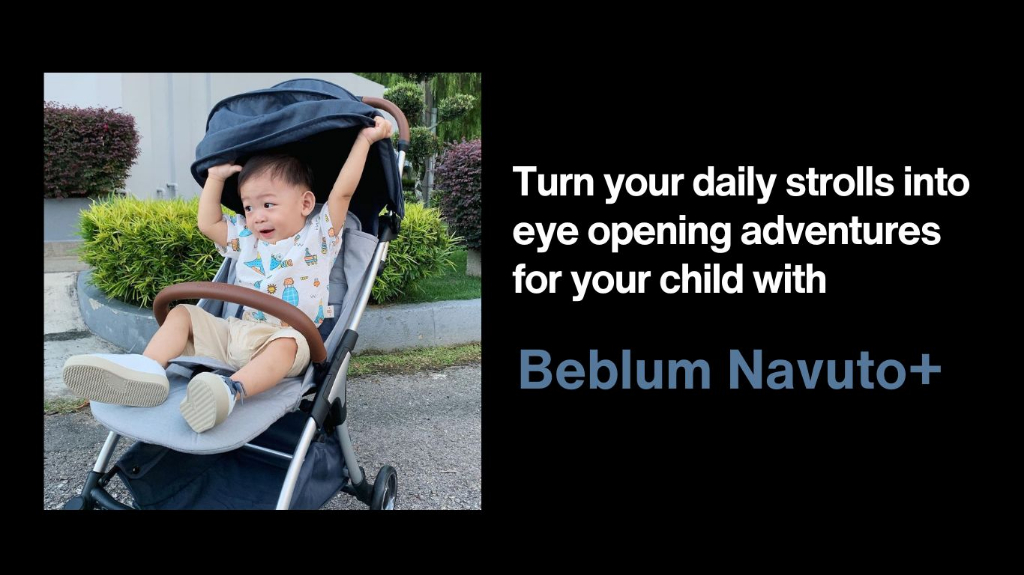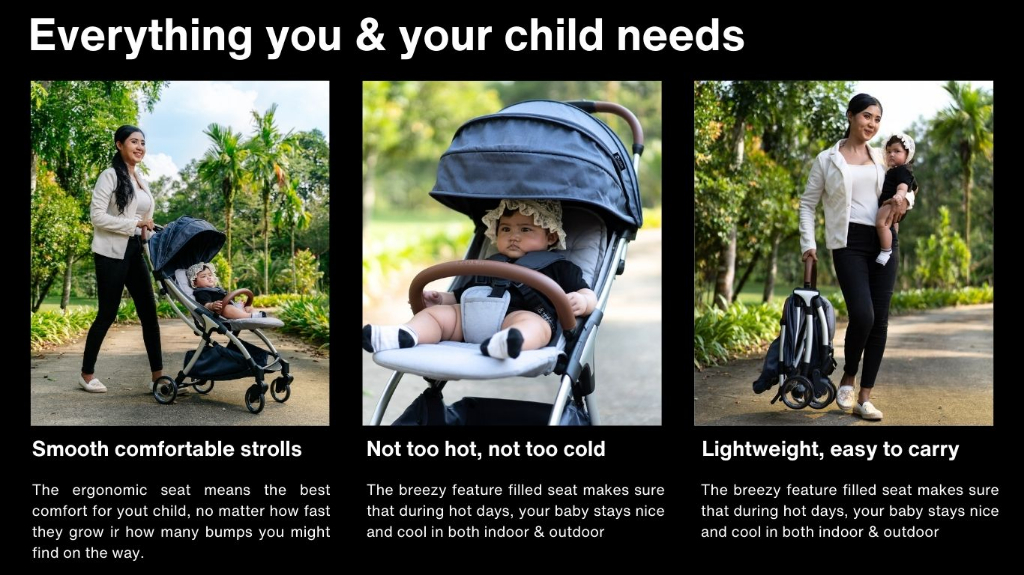 Beblum Navuto+ is one of the easiest newborn baby strollers to fold and handle for new mothers. Frame structure is designed with the latest auto-folding system that only uses 1-click button.
𝗙𝗲𝗮𝘁𝘂𝗿𝗲𝘀
• One-hand automatic folding mechanism
• 3 adjustable recline angles up to 170 degree
• Cabin friendly size and compact for storage
• Lightweight stroller for easy handling
• OEKO-TEX eco-friendly certified fabric that is soft and safe on skin
• Well-ventilated fabric that does not retain heat
• Fabric is easily removed for washing
• Vegan leather handle bar for comfortable grip
• Safety 5-point harness system for child
• UPF50 canopy against sunlight protection
• Large storage compartment at the bottom
• 4-wheel suspension to absorb impact
• Ball-bearing wheels (+30% easy handling)
• Single-barrelled braking system
• Add on stroller adapter and Beblum Danzo car seat carrier to be a Travel System.
𝗦𝗽𝗲𝗰𝗶𝗳𝗶𝗰𝗮𝘁𝗶𝗼𝗻𝘀
• Designed with European engineering EN1888
• Folded Dimension: 46(W) x 36(D) x 56(H)
• Seat Dimension: 32(W) x 35(D) x 40(H)
• Weight: 6.7kg
𝗥𝗲𝗰𝗼𝗺𝗺𝗲𝗻𝗱𝗲𝗱 𝗨𝘀𝗲
• Suitable for new born up to 22kg (5 years old)
𝗪𝗮𝗿𝗿𝗮𝗻𝘁𝘆 𝗣𝗲𝗿𝗶𝗼𝗱
• 12 months warranty on mechanism
𝗔𝗰𝗰𝗲𝘀𝘀𝗼𝗿𝗶𝗲𝘀
• Included: Travel Bag
• Additional purchase: Adapter, Raincover
Sam Crib product video:
Navuto+ features video: