Galaxy Car Seat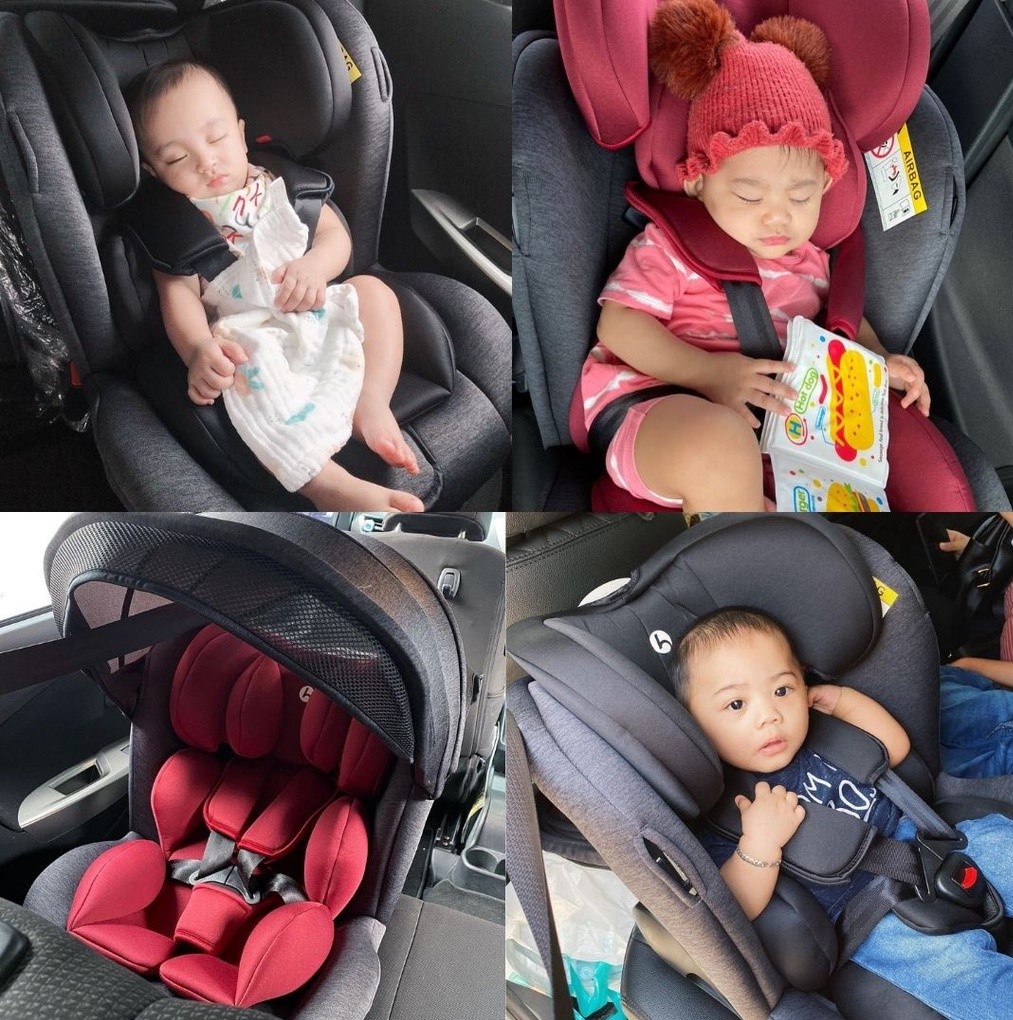 Beblum Galaxy Convertible Car Seat can be used by children from all ages from new born to aged 12. Hence, it can be adjusted from rear-facing position to front-facing position as well as booster seat. At 15kg, the 5-point harness system has to be removed to convert into a booster seat.
𝗙𝗲𝗮𝘁𝘂𝗿𝗲𝘀
• Installation using vehicle 3-point belt
• 4 adjustable recline angles as according to the age of the child
• 9+4 adjustable headrest positions according to the height of the child
• Extended rear-facing position up to 18kg (4 years old)
• Slim fit design that is able to fit up to 3 Galaxy in a row
• Equipped with locking clip system to ensure seat belt is tight
• Equipped with 5-point harness system for child
• Equipped with body and head support cushions
• Equipped with hand-picked soft cushion cover
• Equipped with well ventilated fabric that does not retain heat
• Fabric is easily removed for washing
• 5-point harness system is easily removed for booster seat
• Direct seat belt usage just like adult for Booster seat
𝗜𝗻𝘀𝘁𝗮𝗹𝗹𝗮𝘁𝗶𝗼𝗻 𝗩𝗶𝗱𝗲𝗼
• https://www.youtube.com/watch?v=N3KW0RBZBds
𝗦𝗽𝗲𝗰𝗶𝗳𝗶𝗰𝗮𝘁𝗶𝗼𝗻𝘀
• ECE R44/04 certified
• JPJ certified with MIROS QR code
• Dimension: 44cm(W) × 50cm(D) × 60cm(H)
• Weight: 6.7kg
𝗥𝗲𝗰𝗼𝗺𝗺𝗲𝗻𝗱𝗲𝗱 𝗨𝘀𝗲
• Suitable for new born up to 36kg (12 years old)
• Rear-facing position: newborn up to 18kg
• Forward-facing position: 9 months up to 18kg
• Booster seat position: 15kg up to 36kg
𝗪𝗮𝗿𝗿𝗮𝗻𝘁𝘆 𝗣𝗲𝗿𝗶𝗼𝗱
• 12 months warranty on mechanism
𝗔𝗰𝗰𝗲𝘀𝗼𝗿𝗶𝗲𝘀
• Included: Canopy for extra privacy & avoid sunlight
Revo 360 Stroller
Revo 360 is a fully featured pushchair that is perfect for city living or outdoor adventures, its seat able to rotate both ways at your own preference. This stroller combines the functionality of a full-size stroller with the convenience of a compact stroller.
–𝗙𝗲𝗮𝘁𝘂𝗿𝗲𝘀–
-360° One-hand rotatable seat
-3 Recline levels (max.170 degrees)
-5-point safety harness system
-4-wheel suspension with chrome rims
-Water resistant extendable canopy
-Detachable handlebar
-Centralized brake system
-PU leather handle bar
-Oversized storage basket
-Removable seat pad for easy washing
–𝗦𝗽𝗲𝗰𝗶𝗳𝗶𝗰𝗮𝘁𝗶𝗼𝗻𝘀–
-Weight: 9.9kg
-Folded Size: 50(W) x 48(D) x 56(H)
-Seat Dimension: 40(W) x 35(D) x 40(H)
–𝗥𝗲𝗰𝗼𝗺𝗺𝗲𝗻𝗱𝗲𝗱 𝗨𝘀𝗲–
-Suitable for newborn – 22kg
–𝗪𝗮𝗿𝗿𝗮𝗻𝘁𝘆 𝗣𝗲𝗿𝗶𝗼𝗱–
-1 Year on mechanism
Galaxy installation video:
Revo features video: